All goods are supplied to stockists and all prices are inclusive of VAT.
Carriage not included.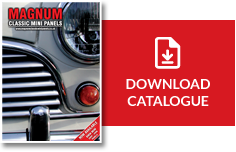 Welcome to Magnum Classic Mini Panels
Magnum Car Panels are the largest independent UK manufacturer of clasic replacement body panels and parts for the Mini MK1, MK2, MK3. We also manufacture a large range of classic panels and parts for the Mini Van, Mini Pick-up, Mini Traveller to 1970 to 1970, Mini Clubman, Mini Clubman Estate, Mini Clubman Estate Injection and BMW Mini 2000-2006.
With over 700 Press tools in production and a further 20 tools just for the Mini market planned for thisyear we are confident we can supply your requirements for Mini panels and parts.
We also manufacture classic car panels for...